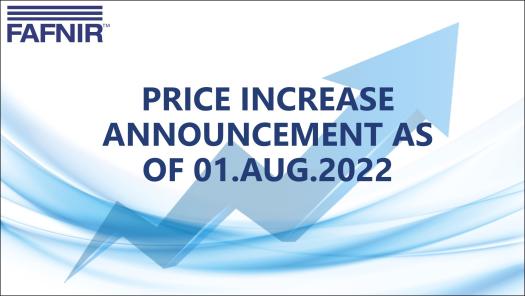 We are writing today to inform you that the sharp increases in prices imposed by our own suppliers leaves us no choice but to raise prices for our customers as well as of 01/08/2022. The price raises will vary according to the type of device. This action, while regrettable, is essential if we are to secure the reliability of supply chains.
As is the case for almost everyone, we currently receive notifications of price increases from our long-standing suppliers and partners on a more or less daily basis. In recent months, this situation has brutally exposed the vulnerability of supply chains and led to critical shortages of materials and capacities accompanied by cost increases.
Our company cannot exercise any direct influence on the increases in raw material prices because they are a worldwide phenomenon.
In view of the extreme market volatility and the short-term changes in the terms and conditions on the part of our suppliers, we must also reserve the right until further notice to make price changes on open orders, to designate offer prices as non-binding and not to confirm the definitive prices until the time of shipment. We will notify you if exercising this reservation should prove unavoidable.
Despite the current economic upheavals, we have managed to lower the prices for two of our products, TORRIX with Hart interface and TORRIX with RS485 interface.
If you have any questions, please do not hesitate to speak to your contact, who will also be in touch with you in the next few days to find out what concrete effects the current price increases will have on your orders and contracts.
We ask you to understand the necessity of these adjustments and to continue to place your trust in our company and its products.
Our sincere thanks for your cooperation in a spirit of partnership, and we look forward to collaborating with you as we all work together to master the challenges of these difficult times.