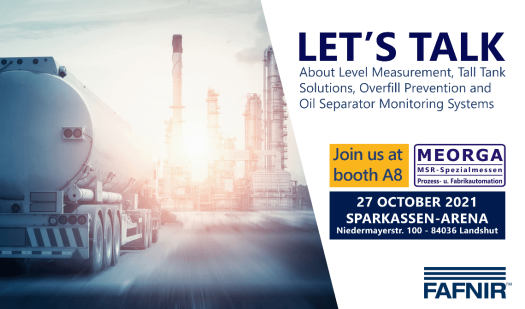 We are extremely delighted to communicate to our partners and customers that FAFNIR will be participating in MEORGA Landshut – 2021 exhibition at the Sparkasse Arena, Niedermayerstraße 100 in Landshut on the 27th.October.2021.
MEORGA is one the leading exhibitions in Germany for the Process Industry with more than 150 exhibitors including several OEM's, EPC's and multiple vendors. This exhibition attracts visitors and customers from all around Europe.
We will be exhibiting our brand-new product, the ALL-IN-ONE "TORRIX XTS", a highly accurate level measurement sensor with integrated display capable of continuously measuring product level, interphase, density and temperature. You will also be able to experience our products such as COMS (Continuous Oil Separator Monitoring system) and Overfill Prevention system (LS300/LS500) at our booth.
We invite all our partners, customers and colleagues to pay us a visit at our booth A8 and get hands on experience on our products. Proper hygiene measures are followed at the exhibition premises to make sure that everyone is safe and protected.
We are looking forward to meeting you at our booth!